Used by the United States Navy
How do you know the results of Barnacle Flush?
BORESCOPE BEFORE AND AFTER!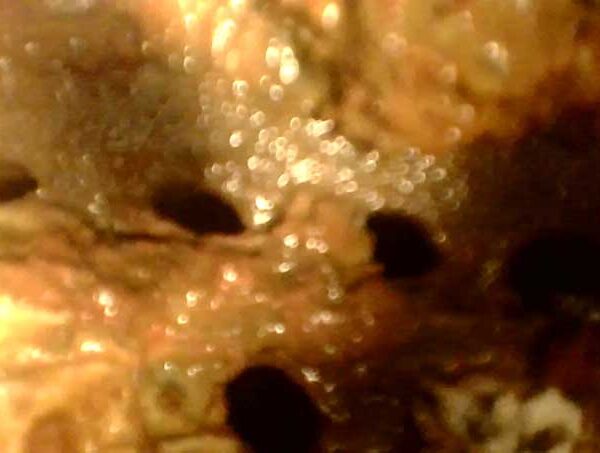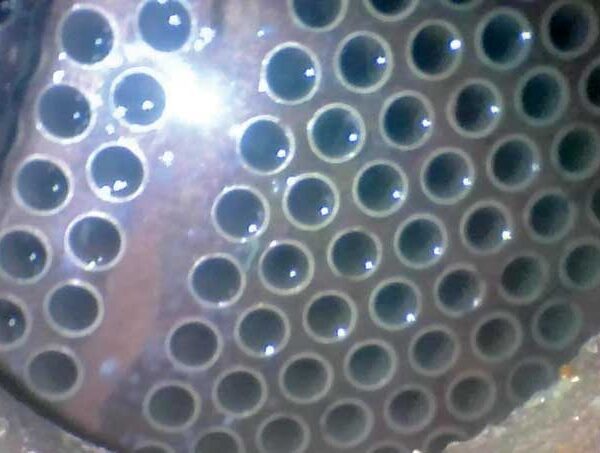 Marine Cooling Service
San Diego to Santa Barbara
Flushing your systems of marine growth will save you thousands in mechanical costs and downtime
Marine Cooling Service Ensures Proper Water Flow to Your Engine and Generator
Over time, marine buildup leads to clogged systems, making your engine and generator overheat. This typically costs thousands to fix by traditional service and leads to weeks of extended downtime.
Systems serviced: Heat Exchangers, After Coolers, Trans Coolers, Oil Coolers, Fuel Coolers, Raw Water Hoses, and more. Barnacle Flush can save you up to 75% of the cost of traditional service, it's non-invasive, and it's completed in 1-day!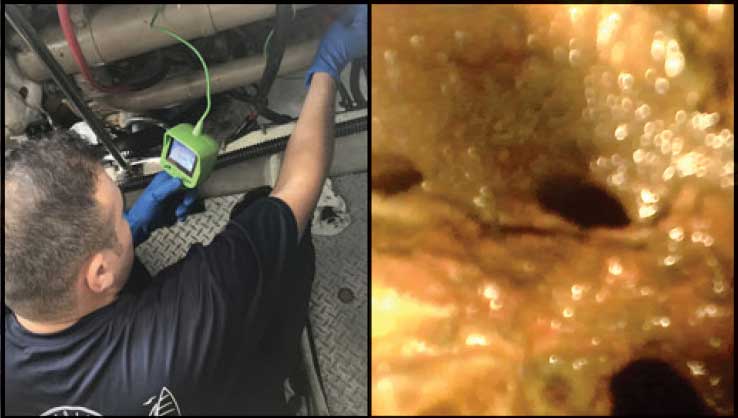 BORESCOPE

: Heat Exchanger, Cooler (Trans), and other systems where Zinc and or visual openings are accessible.

PRESSURE TEST

: Heat Exchanger for pressure loss and leaks. If an expansion tank is in place, check proper connections, obstructions, and leaks.

 

RAW WATER PUMP

: Visually check mounting, possible leaks, and any other issues.

SEA COCK

: Check valve for operational functionality.
Note, Sea Cock Valve, even in a closed position can allow for seepage if compromised.

SEA STRAINER

: Visually check Sea Strainer for grass build-up and cylinder clarity.

ZINCS

: Check for wear and leaks and replace as necessary.

HOSES / HOSE CLAMPS

: Inspect for clamp replacements or double clamp as necessary.

RUN ENGINES

: Check for issues that could prevent flush, hull outflow exhaust/water stream, and color of smoke if any.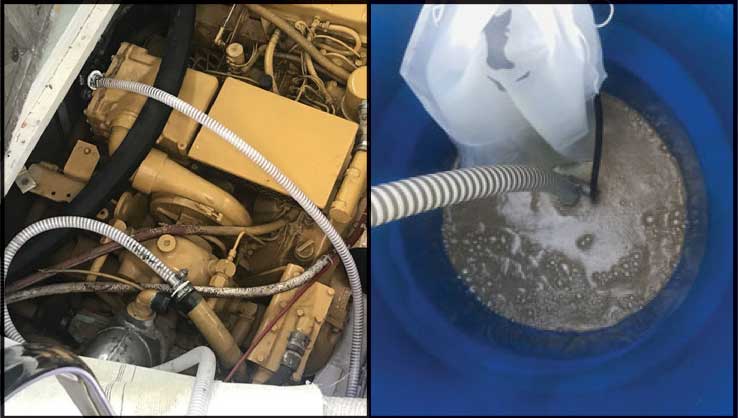 SET UP

: Prep equipment and boat prior to flush.

BOAT PROTECTION

: All surfaces are protected with Blue Diamond and waterproof tarps. Note, engines are NOT running during flush procedures.

 

PLUMBING

: Properly connect lines to achieve full circulation and run fresh water through system to check for leaks prior to adding the Barnacle Buster descaler.

FLUSHING

: Our industrial grade flushing system has dual filters and pressure controllers with a flow rate of over 1,200 gallons per hour. Main engine flush is a minimum of 2-3 hours depending on condition. During flush, effects of removed bio-growth is evident by the solution's odor, gas and change of color. The system captures broken zincs, impellers, sea grass, and foreign matter. Reverse flushing, captures debris and foreign matter that by engine design gets pushed only one way. All systems are flushed with freshwater before and after. During freshwater flush we check for leaks. The procedure is done without the engines running.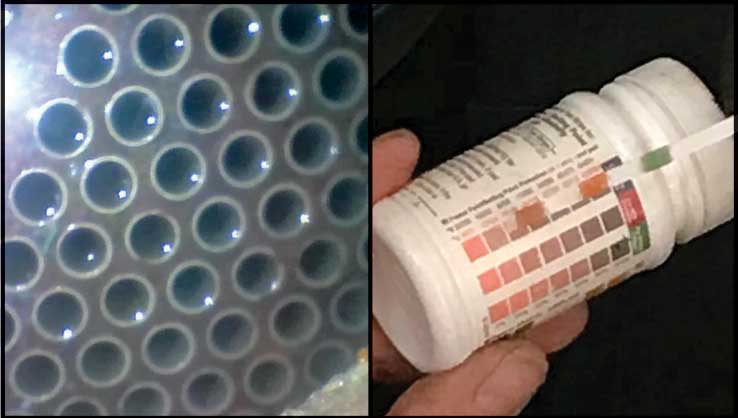 BORESCOPE

: Heat Exchanger, After Cooler, and other systems where Zinc and/or Hose openings are accessible to confirm results.

PRESSURE TEST

: Heat Exchanger for loss of pressure and leaks.

 

ZINCS

: Replace as necessary.

SYSTEMS

: Connect all Hoses, exhaust riser lines, prop shaft, and seal lines per checklist.
SEA COCK: Ensure valves are open prior to starting engines.

RUN ENGINES

: Check for leaks and exhaust flow from hull.

COOLANT

: Test coolant properties and overflow level.

HOSES / HOSE CLAMPS

: Check all Hoses, Exhaust Riser Lines, Prop Shaft Lines, Sea Cock Lines ensuring proper seal.

REPORT

: Full service report with photos emailed to you confirming flush results.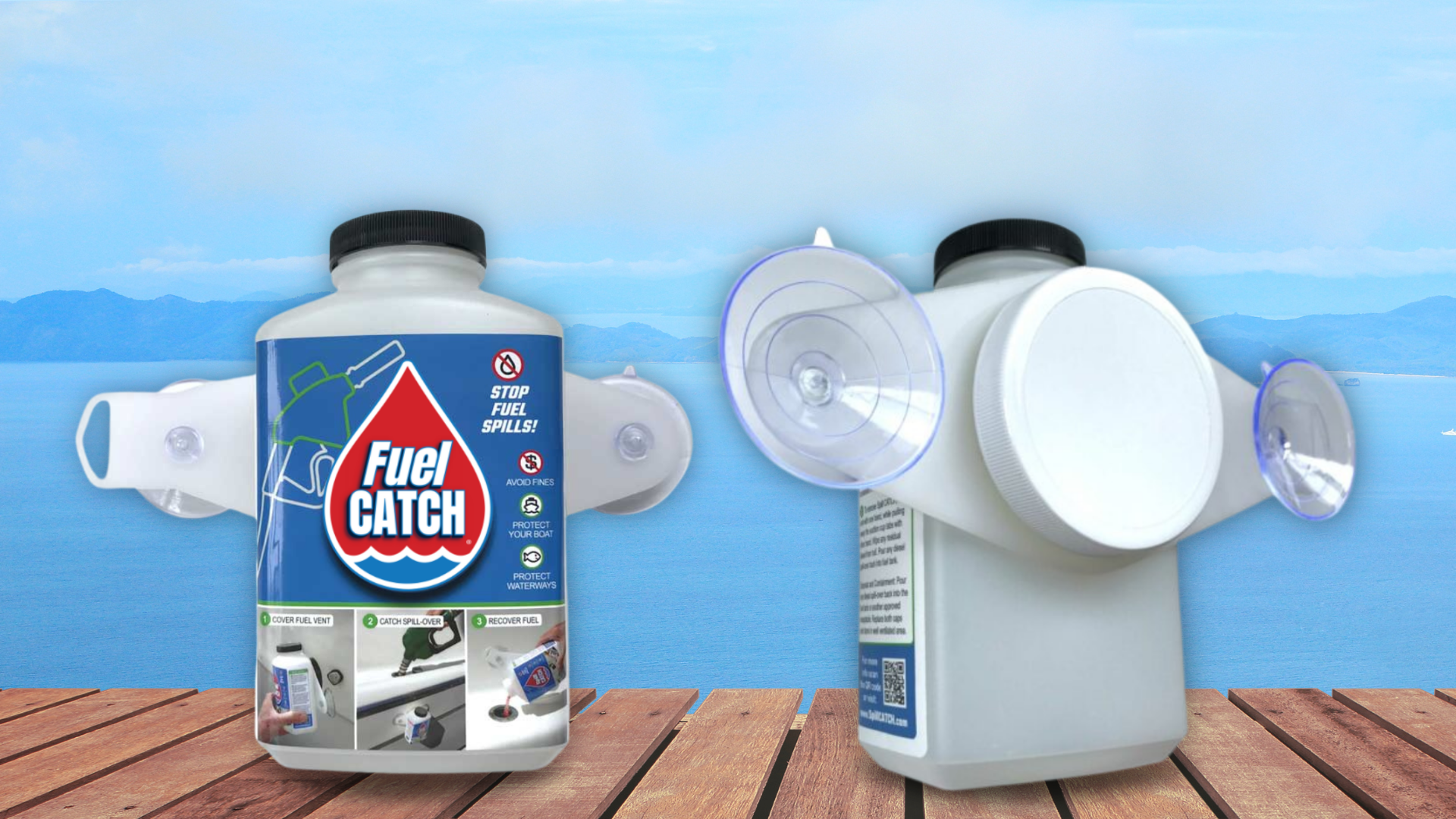 TheFuelCATCH
In the process of fueling and topping off, overfills and spills can happen.
FuelCATCH makes recovering the excess fuel AS EASY AS 1-2-3!
FuelCATCH is a simple, cost-effective solution, that prevents fuel from spilling on the boat hull. This helps avoid hull stains and runoff pollution, protecting our waterways.
Please note, FuelCATCH is recommended for DIESEL use only.

Johnny LaFata is one in a million.  He saved my bacon HUGE and knew exactly how to rectify the problem with my engine…  I am going to recommend him to everyone I know in the boating community… Call him first.

Barnacle Flush knows what they are doing! They are knowledgeable, work cleanly, and professionally. They take no short cuts!… VERY IMPRESSED

Remarkable job of cleaning everywhere salt water touches inside my Yanmar 315 Turbo diesel and its hoses, etc.  Running very cool.  Saved me a bundle.

The results were incredible!… As a result, saved 80% of what mechanics would have charged me to remove the cooling systems and take them to a radiator shop.

I had Barnacle Flush service a boat with two Volvo TAMD 41A'S because of an overheating issue. Johnny explained the process very thoroughly beforehand and sent photos and reports while they were the flushing engines… Excellent customer service, Very professional!!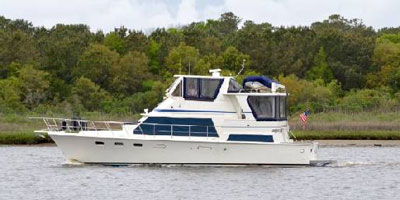 44' Novatec (1993) / Twin Caterpillar 3208
Results: Starboard Dropped 50% / Port Dropped 36%
Owners: Brian & Debbie Goelz
"Our Caterpillar 3208's were running fine and didn't think we needed the full service flush. Wow, we were amazed to watch our engine temperatures drop by up to 50%! We are very pleased with your affordable, fast, clean, and professional service. Big thanks to your tech for letting us know we needed to replace our deteriorating brass coolant line too. Keep up the good work!"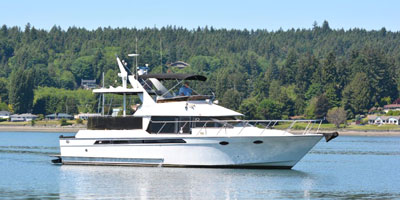 44' Alexander (1989) / Twin Volvo Penta's
Results: Starboard Dropped 42% / Port Dropped 19%
Owners: Jeff & Denise Laveson (lavenson@carneylaw.com)
"It's the best flush I've ever had."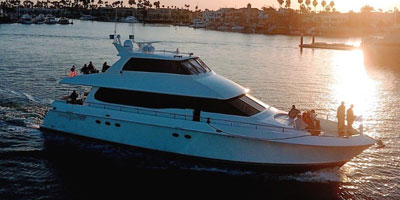 76′ Lazzara (1999) / MTU 1150 HP
Results: 20 degree drop in both engines
Owner: Bob Tyner, CCYC Commodore
"My Engines are now running very well and I attributed it to BarnacleFlush. Their service was very impressive."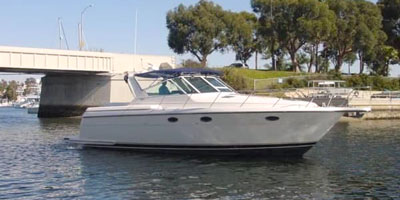 35' Tiara (2000) / Twin Cummins
Results: Starboard Dropped 18%
Owners: Craig & Patty Dever (cbdever2@gmail.com)
"I was very pleased with the work, your promptness, no residual mess and that everything was thoroughly explained before work was begun."